Meeting of the social movements and grassroots organisations group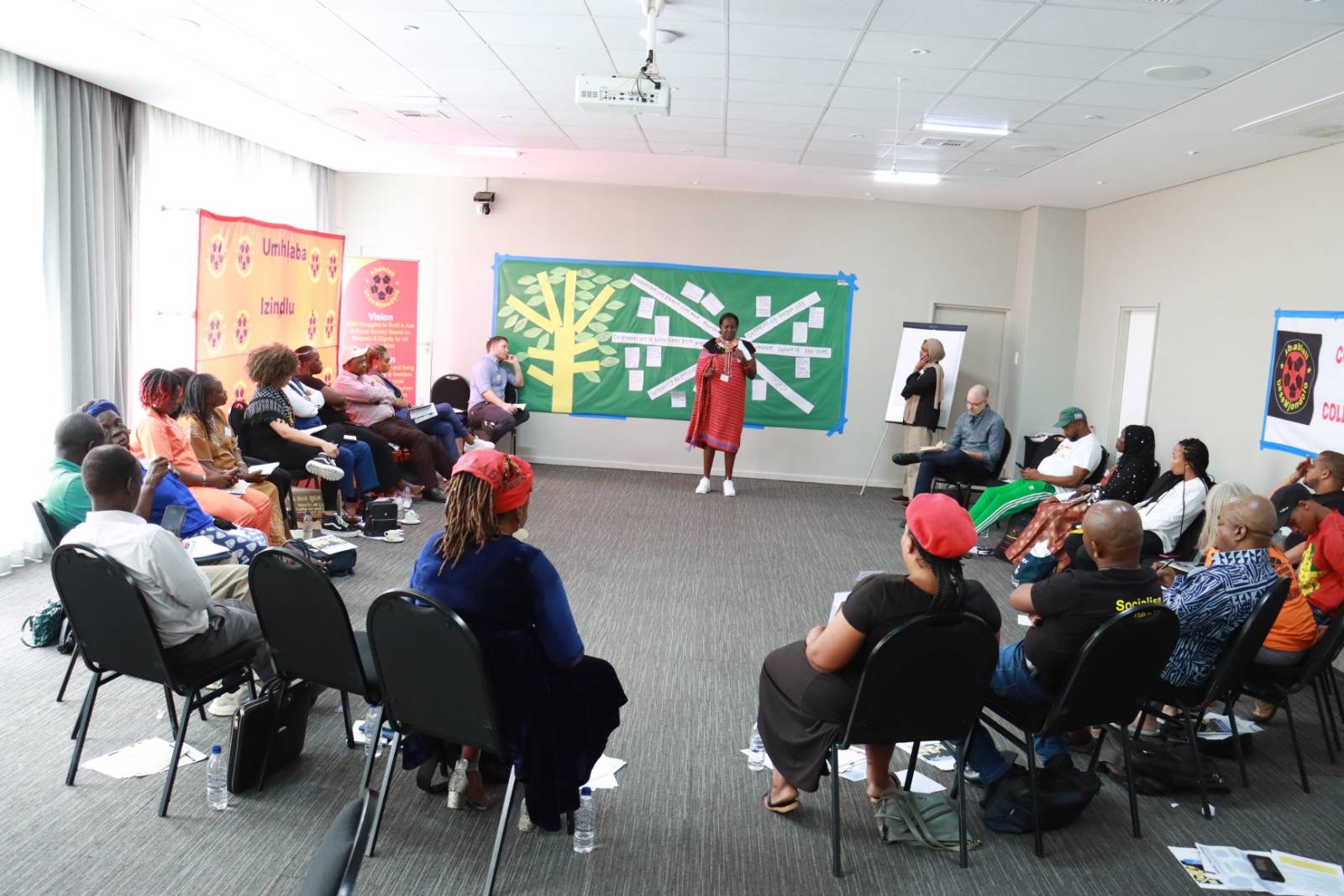 PAH was invited to participate in the meeting of the ESCR-Net social movements group of which we are a member. The gathering included three intensive days of meetings and a solidarity visit to the informal settlements of eKhenana and Kennedy Road.
The ESCR-Net – International Network for Economic, Social and Cultural Rights is a collaborative initiative between groups and individuals from different parts of the world working for social and economic justice through the defence of human rights. The meeting, in Durban, South Africa, was also co-organised by Abahlali baseMjondolo and the Socio-Economic Rights Institute of South Africa (SERI). It was one of the regional get togethers of the ESCR-Net social movements group and was mainly composed of members from sub-Saharan Africa. With around 30 participants, there were representatives of groups from South Africa, Kenya, Liberia, Botswana, Nigeria, Swaziland, USA and Spain (PAH). Another meeting with members from Latin America is planned for the end of 2023.
Many of us arrived after long journeys and Abahlali welcomed us with food, song and dance. Singing and dancing together was to be the way most of the meetings would start. Abahlali is the largest organised movement post-1994 of those living in poverty in South Africa, and has over 100,000 members in urban and rural communities. Abahlali is fighting non-violently for equal rights to the cities, housing and a fair distribution of land, wealth and other resources. It was formed in 2005 when members of 12 informal shack settlements in Durban came together to demonstrate against the South African government's broken promises to improve conditions for the inhabitants of the Kennedy Road settlement. The occupants had been promised a plot of land where public housing would be built, but it was later sold to a businessman for private profit.
Representatives from SERI were also present. SERI is a human rights organisation that works with communities, social movements, individuals and other non-profit organisations in South Africa and other countries to develop and implement strategies to combat inequality and achieve socio-economic rights. SERI provides legal advice and representation, research services and support to their partners. They act to protect and expand the political spaces in which people and communities organise and press for social change. Their lawyers have been instrumental in defending Abahlali's members and fighting evictions.
The day after arrival we started three intensive days of meetings and work in small groups on various topics. We introduced ourselves and shared the values that are important for each group, what unites us and what we have in common. We are all fighting to have or preserve decent and adequate housing, some also for land. One of the biggest threats is from companies and particularly transnational corporations. Governments, politicians and corruption are also threats. There was talk of Corporate Capture, the ESCR-net uses this term to describe the power of large corporations to influence or manipulate governments for their benefit.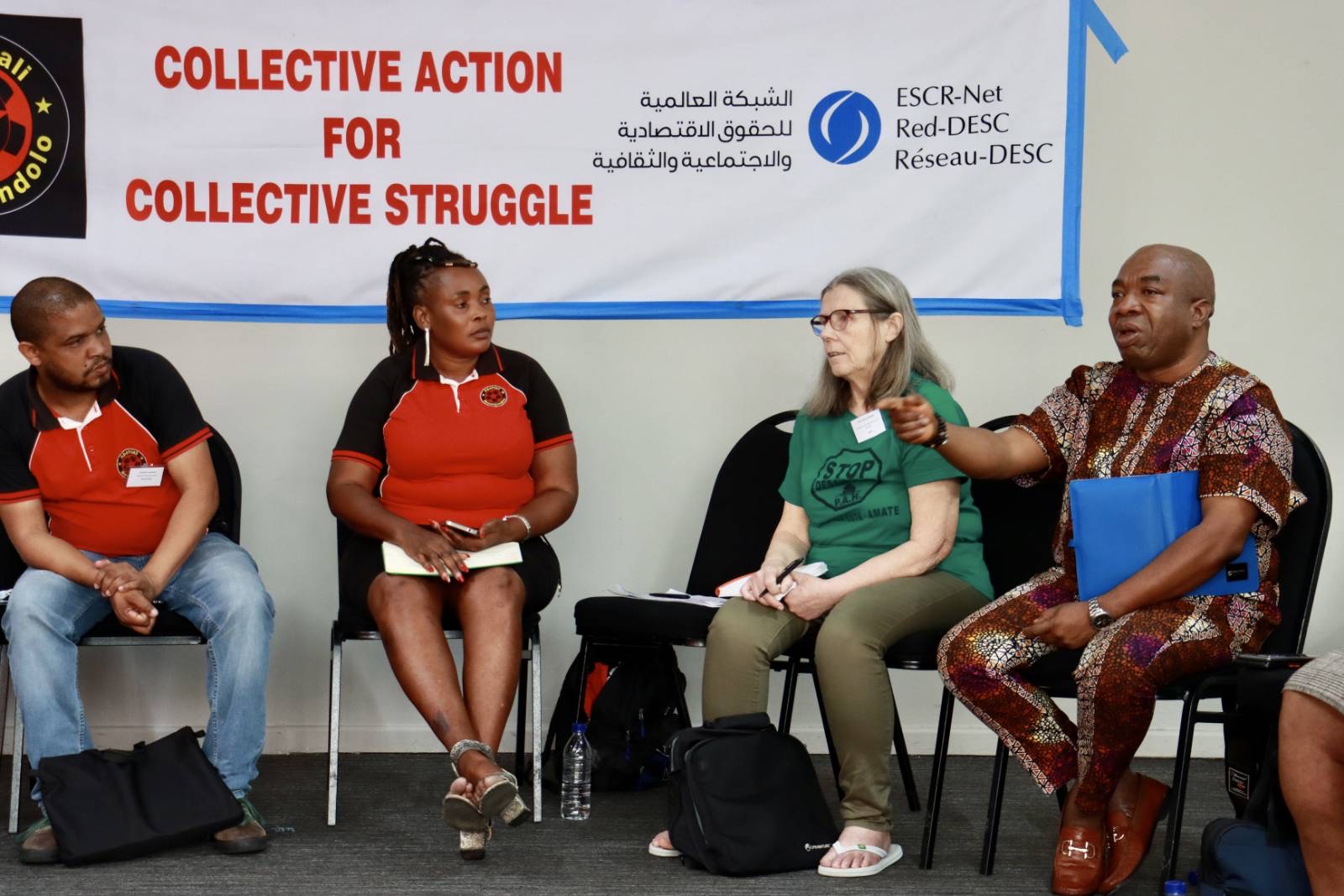 There was a session on how different groups operate and work, many if not all, do so through assembly, but with voted leaders. They are non-political groups, very conscious of the inclusion of women in their structures, who often make up more than half of the membership. Young people are also very involved and active. There was a lot of interest in PAH, that we can function without subsidies impressed many comrades. They are all very aware of the power of donors, mainly NGOs, to influence how they act. There were questions like «how do you pay for office rent and telephone». Transport to meetings, which often involve long distances, is a cost that some commented that they could not cover without subsidies. Six PAH manuals were handed out in English, the language of the meeting, we should have taken 30, they would have been put to good use.
Work was done on a variety of topics, one was energy and climate change. While rich countries use much of the energy that is causing global warming, other regions are already suffering the consequences. Also, measures to reduce it are being applied in a discriminatory way. A comrade from Kenya told us that they had lost land essential for the maintenance of their community as a result of the construction of a wind farm, but that they have no access to electricity, nor were there any plans to install it in the area. Another comrade commented that they are prohibited from burning coal in South Africa, but the country exports coal to the UK. A comrade from Nigeria also spoke about his community. The abuses of the population and the environment in the Ogoni region as a result of oil extraction are well known worldwide. The PAH explained the energy poverty that many families suffer in northern countries and the need for heating in winter.
We reviewed the "Common Charter for Collective Struggle, a shared analysis and call to action". The charter was originally developed by the Social Movements and Grassroots Organisations group of the ESCR-Net over a year of meetings in 2016. It includes ideas on impoverishment and dispossession amidst abundance, corporate state capture, growing inequality, ecosystem degradation and climate change, and increasing repression. We investigated what had changed in recent years and how we could update it. We found that inequality had increased and that the covid health crisis had worsened the situation.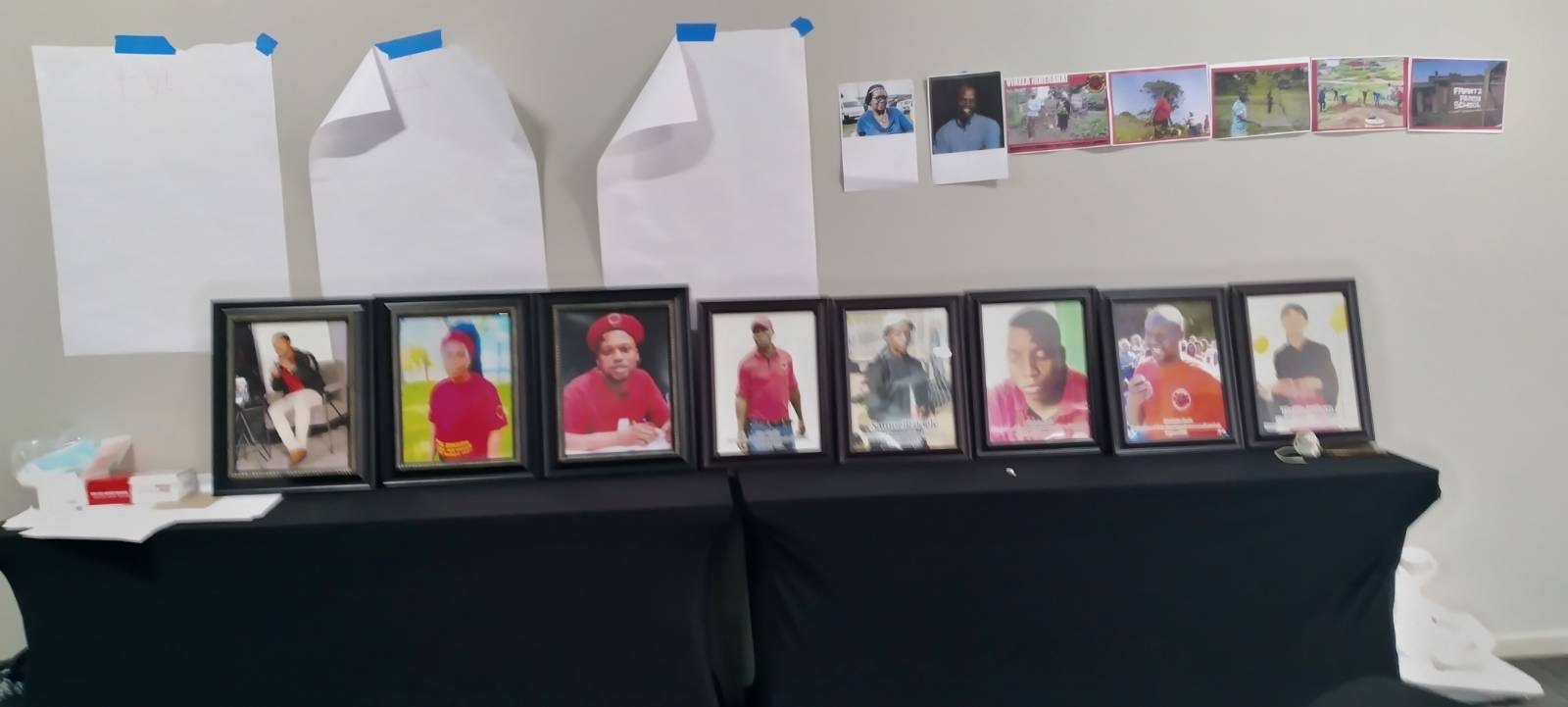 The groups shared their ideas and experiences on how to keep their members safe. The assassination of their leaders and spokespersons is a common occurrence in all African groups. Those responsible are often sent by businessmen or politicians. People are also killed or injured by police during evictions, which are often carried out without warning and sometimes illegally. Abahlali members have suffered 24 assassinations since it was formed in 2005. In the eKhenana settlement during 2022 three of its members were killed, Ayanda Ngila vice-president, Nukuthula Mabaso leader of the women's group, and Lindokuhle Mnguni chairman of the eKhenana section of Abahlali and a leader in the youth group. It is very impressive how they continue the struggle knowing the risks involved, often living in hiding for months at a time. A comrade from Liberia told us about the workshops they were doing, and some ideas on how to improve security.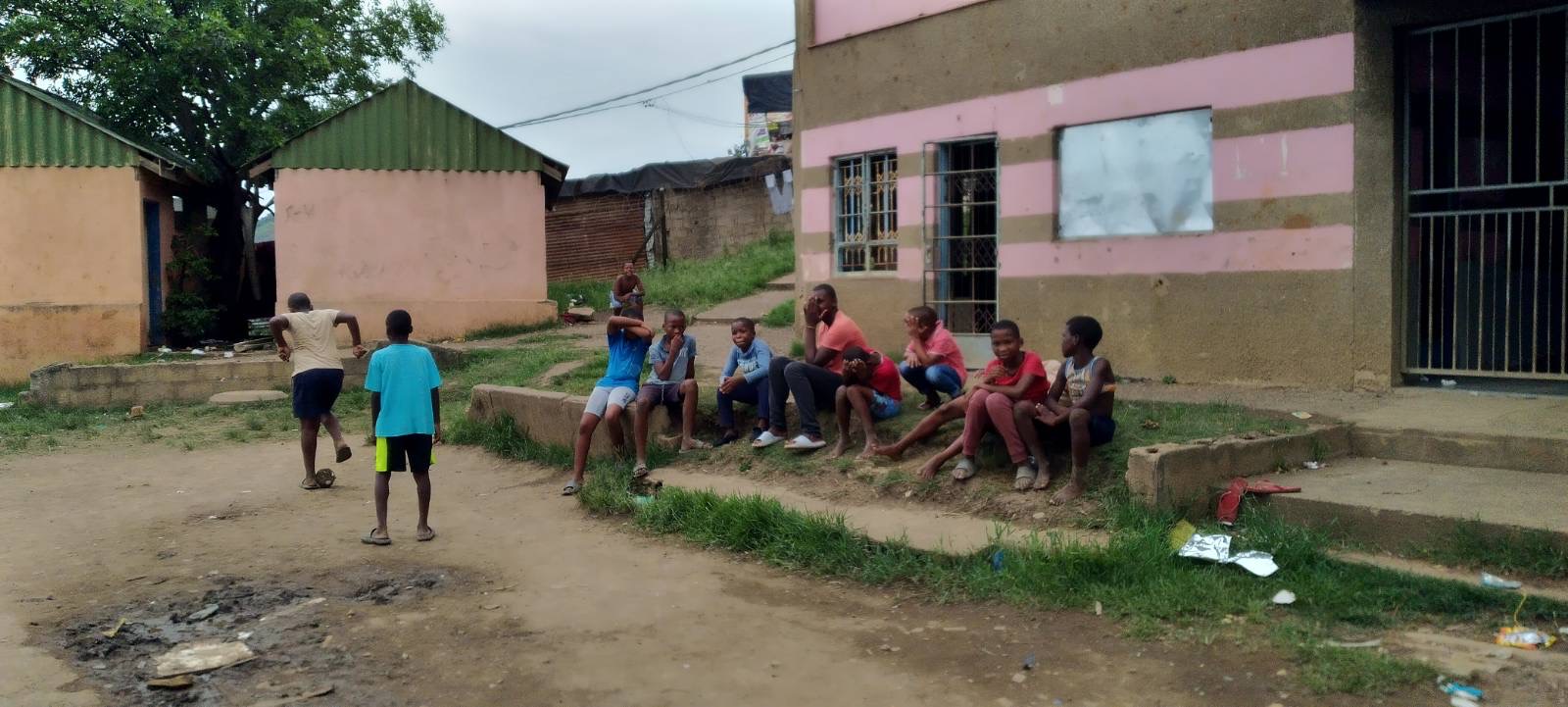 We visited two informal settlements that are organised a little differently from each other. They are self-built shack settlements on occupied land, of which there are many in South Africa. These settlements are mainly occupied by people who come to the city from the countryside to work and survive. Kennedy Road has a long history of 40 years of occupation. The settlement is a piece of land filled with shacks in every bit of available space. Over the years the residents have suffered attacks, violent eviction attempts, fires and many broken promises from the government. Social housing promised multiple times has never materialised, like that which was built on the opposite side of the road, and was given to others. At one time they had legal electricity meters, but since they have been removed they are dependent on an illegal connection to the grid. Similarly, their water supply and help with sewage disposal has also been withdrawn. When we visited, they had just reconnected themselves to the city water mains after being cut-off.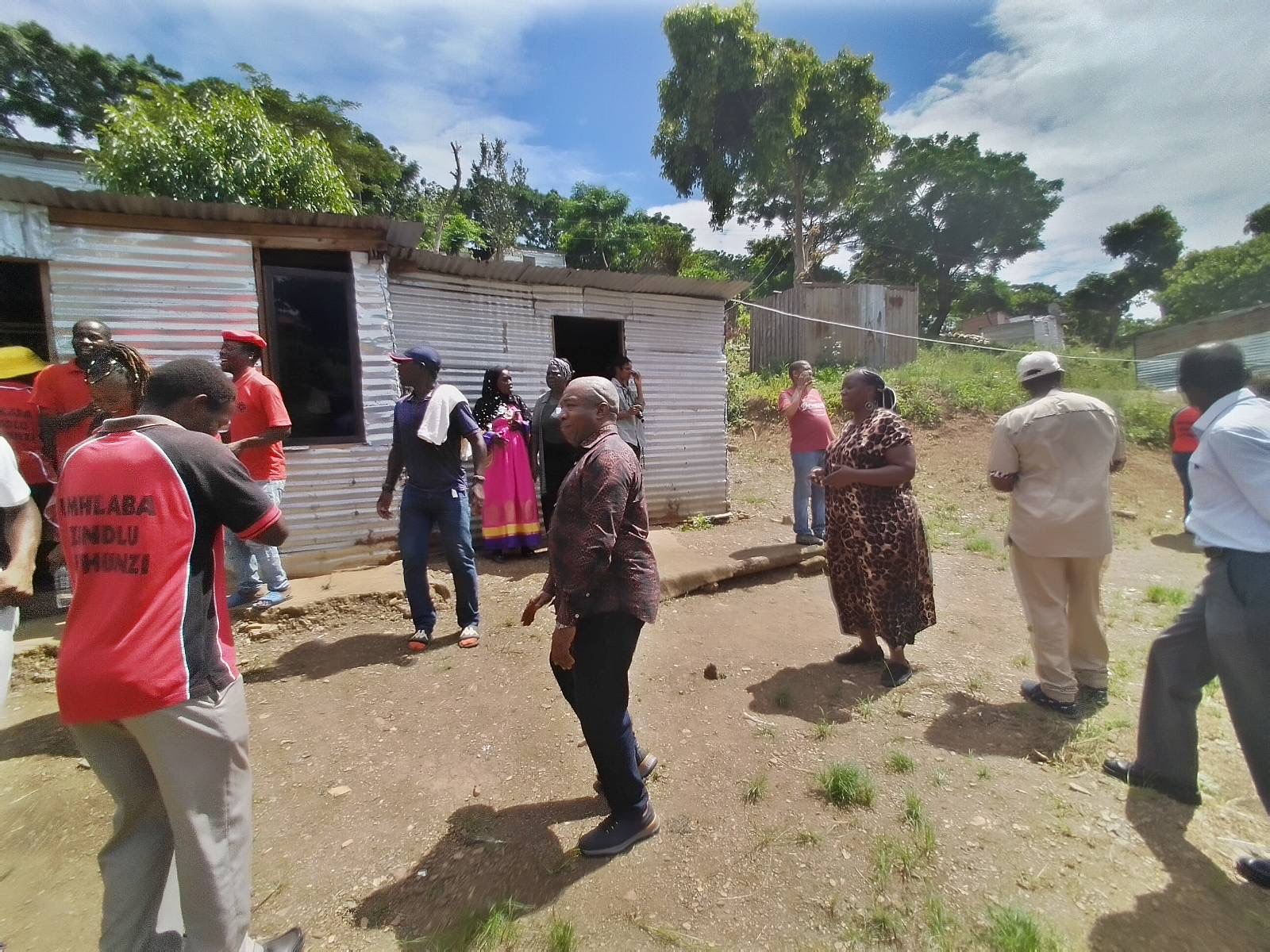 The eKhenana settlement is a model of cooperative living. It was established in 2018 by families who had been evicted from another settlement, Cato Manor. They occupied a disused piece of publicly owned land. It was decided that everything that is done in the settlement must be for the benefit of all. They set up a community kitchen so that no one goes without a meal, a vegetable garden, a chicken farm and a school. They have also suffered abuses such as illegal eviction attempts, arson and gun attacks. At the time of our visit, they were in the middle of court proceedings for eviction. The judge had decreed that during the trial they could not build anything more in the settlement, but neither can what is already built be destroyed.
Between the return from the visit to the settlements and the last meeting, there was time for a shower or a 15-minute visit to the beach. We had seen the ocean from the hotel, which was not far away. Those of us who went to the beach didn't have time to take off our shoes, but by putting your hand in the water you could appreciate how warm it was, in the middle of the southern hemisphere's summer. Soon it was time to leave our comrades with whom we had shared these intense days of meetings, but also of meals and conversations, and it was hard to say goodbye.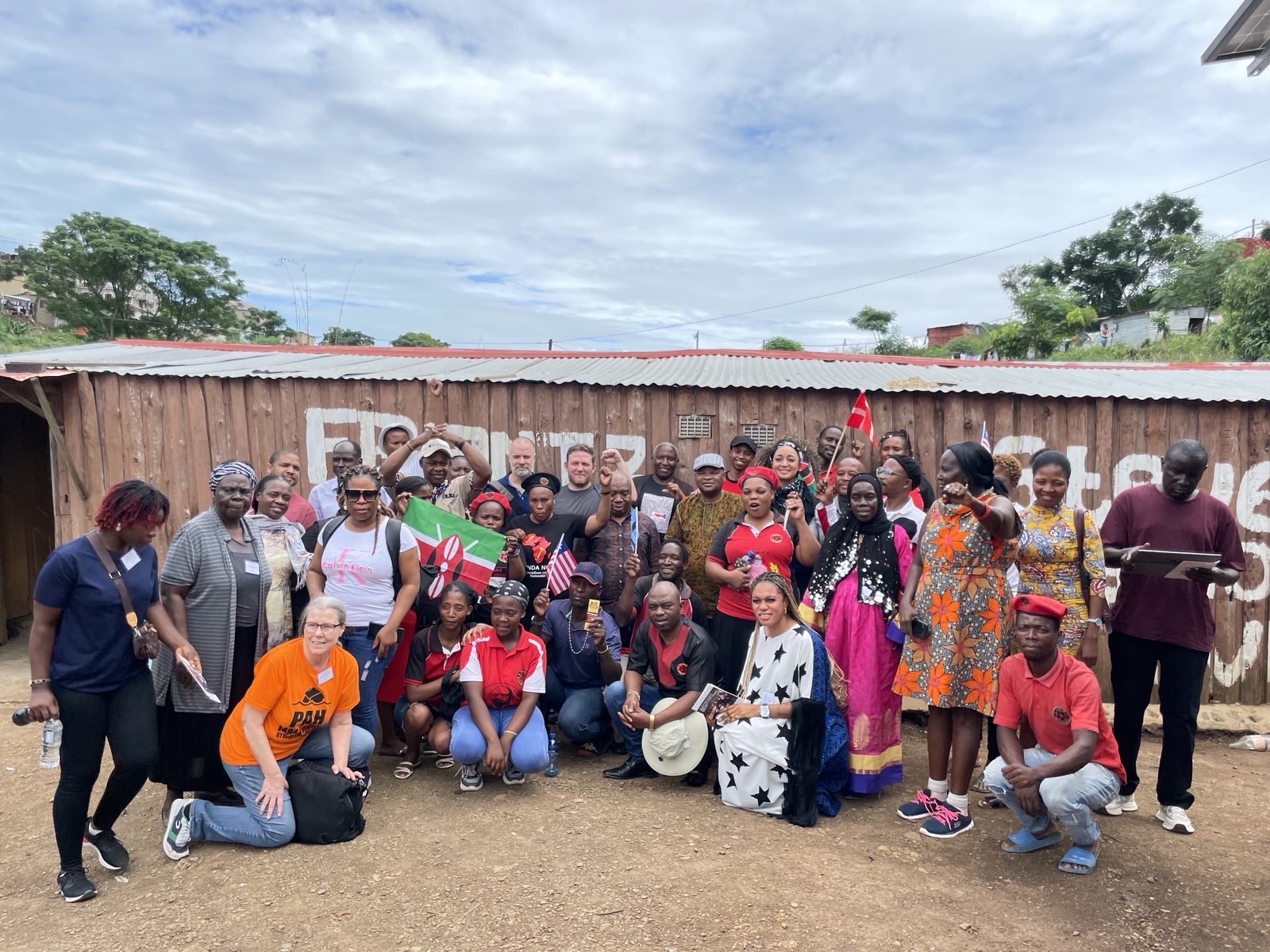 Video about the informal settlement of eKhenana.
More information about the social movements and grassroots organisations of ESCR-Net.