Meeting European Action Coalition
Milan 12-15 Abril 2018
Este encuentro ha tenido un carácter un poco diferente que los habidos hasta el momento por cuanto se concentra en el trabajo en gruposy destina un menor tiempo al plenario de la Coalición. Tal vez este sea el motivo por el que contamos con una menor participación de personas representantes de sus respectivos movimientos.
Los cuatro grupos existentes en la actualidad en la Coalición, Research, Comunicación, Movilización y Dinamización, han cubierto una nueva etapa de su trabajo y han presentado al final del mitin su evolución y su timeline para con las tareas hasta la próxima cita en Lisboa.
Precisamente la organización de este evento, Lisboa 2018 – European Coalition for the housing and to de City´s open Camp, fue el tema central del Plenario celebrado en la 2ª mitad de la jornada final de este encuentro: un Coalition Camp abierto donde podamos ampliar la participación de miembros de los diferentes grupos integrantes de la Coalición. Resulta complicado organizar un evento así por cuanto la logística, las lógicas precauciones a tomar sobre la participación de elementos exteriores que puedan generar tensiones, el presupuesto… pero convencidas de que si se puedeel proyecto va para adelante.
Estaría muy bien que la PAH se volcara en esta ocasión, puesto que Lisboa no nos queda tan lejos, Septiembre (19-26) puede ser una buena fecha para viajar, y el conocimiento de la actividad de la Coalición resulta del todo interesante para todas nosotras. Siempre podemos aportar pero también recibir imputs de energía positiva. Eso que tan bien nos sabe cuando nos encontramos en nuestras asambleas y superamos los retos organizativos y activos que se nos van presentando con inteligencia y energía colectivas.
Amén a todo lo anterior y haciendo honor al nombre de la Coalición se llevó a cabo una acción ante la sede de la Unión Europea en Milan en la que se entregó un documento con unas consideraciones y unas demandas específicas dada la ocasión.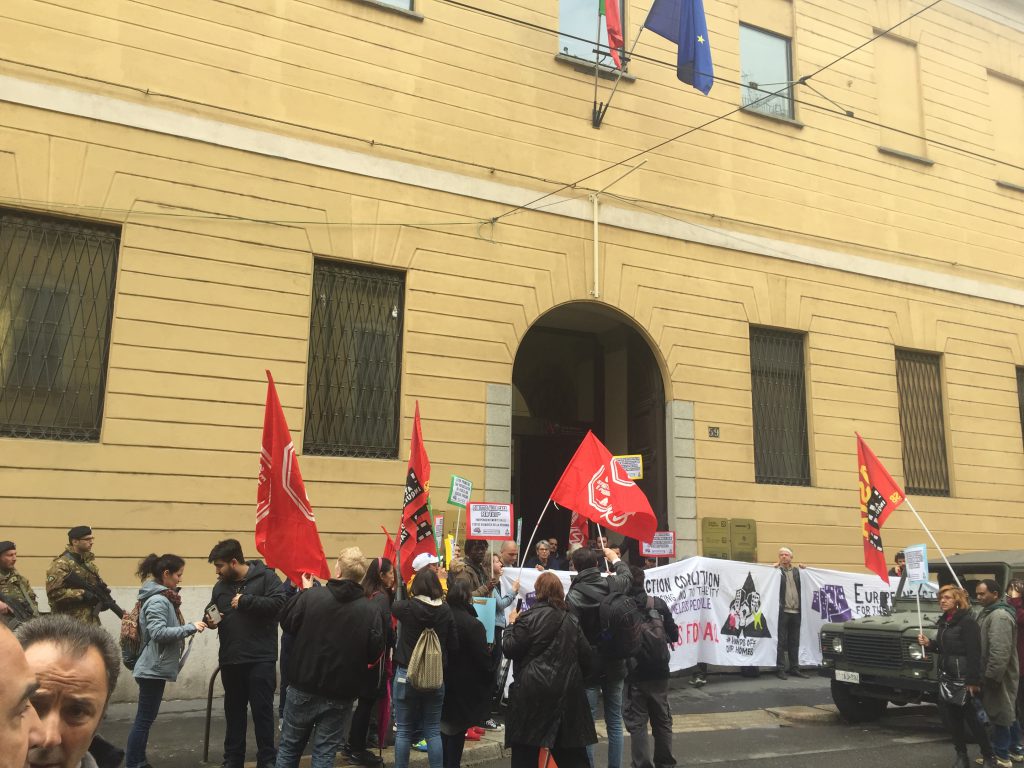 Finalmente nos reunimos ante una pancarta en apoyo y solidaridad con ZADde la región francesa de Nantes donde se están viviendo horas críticas de lucha y enfrentamiento.
Y una vez más nos despedimos con tristeza de las compas de todo el espacio europeo que en presencia, o en la distancia, nos acompañan en este viajar por el skyline del derecho a la vivienda y la ciudad. Pero también con la alegría de pensar que nos veremos pronto para seguir en lucha.
Si Se Puede