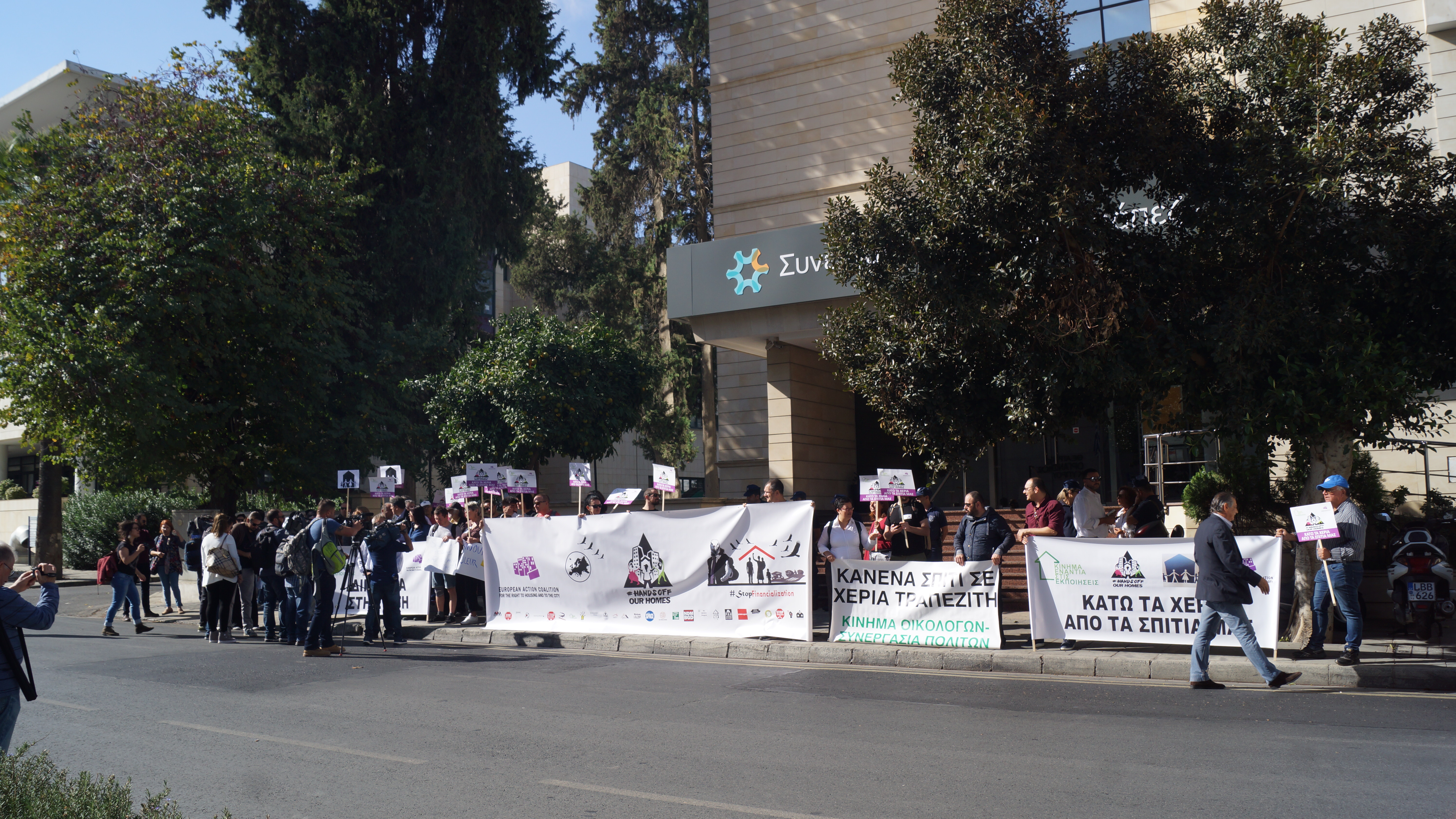 November 8-12, 2017
One Europe, One People, One struggle. With this motto, Cyprus (November 8-12, 2017) receives the groups (Movements or platforms) members of the European Coalition for the right to housing and to the city, among which is the PAH. Meeting Cyprus
Four days of work marked by four basic axes:
some self-knowledge and internal organization

listening to a concrete case victim of the terrible banking practices (and his lawyer)

a little listening and dealing with politicians and the KTO union whose headquarters welcomes us.

and an important action that supposes the launching of the Campaign #handsOffOurhomes by the European Coalition. Launching of a new campaign #HandsOffOurHomes
The Coalition comes, from its beginnings, preparing itself to carry out actions that have as a consequence the social change. Making the movement visible with its struggles is one of the tasks, perhaps the most important one, based on organizing actions, centralized like this one in Cyprus, or decentralized as the ones that each group does in their country. In both cases the Coalition echoes the demands of the inhabitants of each European region and publishes the contents created by each member as well as those created jointly (2 newsletters per year, book of evictions in Europe, the recent document Brochure , Et.).
Work is important in all its forms. But the Action is what makes the most sense to the Coalition and so we feel it to those who integrate it. On this occasion, the Campaign against Financialization#HandsOffOurHomesstarts in Cyprus with a concentration in front of the Central Bank of Cyprus, at its headquarters in Nicosia, with a lot of attention from local media unaccustomed, perhaps, to international events of this type .

In front of the Central Bank in Nicosia

Also in front of the House of Europe
And also in front of the seat of the Parliament of Cyprus delivering a document with our demands to its President.
This Action is undoubtedly an important milestone for the European Coalition for the right to Housing and to the City as it means the launching of its first major campaign at European level. Campaign that is the result of a collective effort to analyze the different local situations, compare them and draw conclusions without surprises: Financing is a phenomenon that affects all of Europe. With differences according to the countries but with the common elements that allow us to join efforts to fight together for an inalienable right.
The future of the Coalition, its strategic orientation and the upcoming meetings mark the final debate before we bid farewell to Cyprus.
Thank you Cyprus compahs for such a good reception.
Links of interest
Launching Video campaign #HandsoffOurHomes
Launching of a new campaign #HandsOffOurHomes
[CAST]
ONE EUROPE – ONE PEOPLE – ONE STRUGGLE
Una Europa, un Pueblo, una lucha. Con este lema nos recibe Chipre (8-12 de Noviembre de 2017) a los Grupos (Movimientos o plataformas) miembros de la Coalición Europea por el derecho a la vivienda y la ciudad entre los que está la PAH. Meeting Cyprus
Cuatro jornadas de trabajo marcadas por cuatro ejes básicos:
– un poco de conocimiento propio y organización interna
la escucha de un caso concreto victima de las pésimas prácticas bancarias (y de su abogada)

un poco de escucha y trato con políticos y el sindicato KTO cuya sede nos acoge.

y una importante acción que supone el lanzamiento de la Campaña #handsOffOurhomes por la Coalición Europea. Launching of a new campaign #HandsOffOurHomes
La Coalición viene, desde sus inicios, preparándose para llevar a cabo acciones que tengan como consecuencia el cambio social. Visibilizar el movimiento con sus luchas es uno de los cometidos, tal vez el más importante, a base de organizar acciones, centralizadas como esta de Chipre, o descentralizadas como las que cada grupo hace en su país. En ambos casos la Coalición se hace eco de las demandas de los habitantes de cada región europea y publica los contenidos creados por cada miembro así como los creados de forma conjunta (2 boletines al año, libro de los desahucios en Europa, el reciente documento Brochure, Et.).
El trabajo es importante en todas sus formas. Pero la Acción es lo que más sentido le da a la Coalición y así lo sentimos quienes la integramos. En esta ocasión se inicia en Chipre la Campaña contra la Financiarización #handsoffourhomescon una concentración ante el Banco Central de Chipre, en su sede en Nicosia, con bastante atención por parte de medios locales poco acostumbrados, tal vez, a eventos internacionales de este tipo.

Ante el Banco Central en Nicosia

También ante la Casa de Europa
Y también ante la sede del Parlamento de Chipre entregando un documento con nuestras demandas a su Presidente.
Es sin duda esta Acción un hito importante para la Coalición Europea por el derecho a la Vivienda y a la Ciudad por cuanto supone el lanzamiento de su primera gran campaña a nivel europeo. Campaña que viene a ser el resultado de un esfuerzo colectivo por analizar las diferentes situaciones locales, compararlas y extraer de ello conclusiones sin sorpresas: La Financiarización es un fenómeno que afecta a toda Europa. Con diferencias según los países pero con los elementos comunes que nos permiten unir esfuerzos para luchar juntas por un derecho inalienable.
El futuro de la Coalición, su orientación estratégica y los próximos encuentros marcan el debate final antes de despedirnos de Chipre.
Gracias compahs de Chipre por tan buena acogida.
Links de interés
Video lanzamiento campaña #HandsoffOurHomes
Launching of a new campaign #HandsOffOurHomes
Lanzamiento Campaña en Facebook