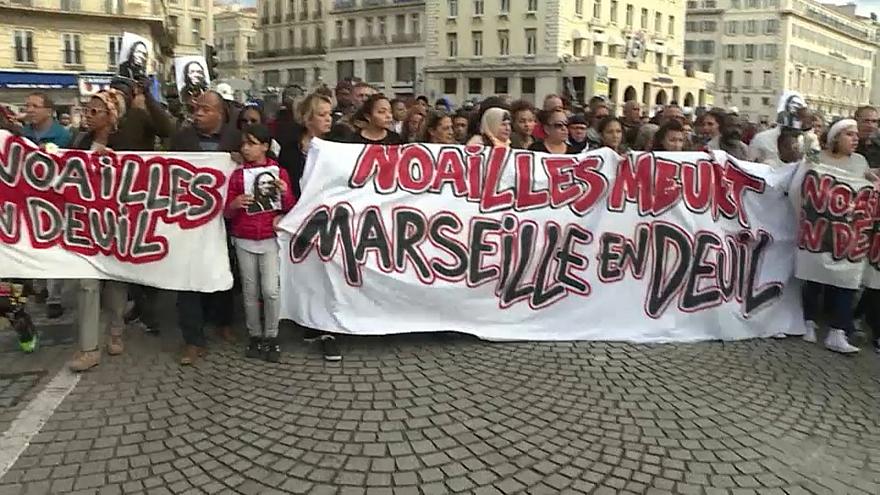 Por
La PAH
Las terribles noticias del colapso de dos edificios en Marsella esta semana nos con-mueven a seguir en la lucha por la vivienda digna. Nuestra solidaridad para las familias y víctimas de esta tragedia.
Nos unimos a la exigencia que muchos movimientos por la Defensa del derecho a una vivienda digna han hecho de que las familias afectadas sean realojadas de manera inmediata en espacios seguros y habitables.
Lo que deja claro este lamentable hecho es la falta de atención y mantenimiento de la vivienda pública  que provoca no sólo situaciones de inseguridad a lo largo de Europa sino también tragedias fatales. Hace poco más de un año se incendia un edificio en Londres (Grenfell tower) donde 72 personas perdieron la vida. Esta semana en Marsella 8 personas fueron rescatadas de entre los escombros sin vida. A pesar de múltiples llamadas de atención al gobierno local se han ignorado una y otra vez las condiciones de inhabitabilidad y abandono en las que se encontraban las viviendas de la calle d'Aubagne.
La vivienda es un derecho y nunca puede convertirse en un espacio de inminente peligro. Como en Francia, en España son necesarias políticas para afrontar la emergencia habitacional en que estamos inmersos, hace falta de forma urgente que se apruebe nuestra  ley de vivienda PAH!!!
Nuestra solidaridad con Marsella, nuestra solidaridad con todas las victimas de políticas nefastas e injustas de vivienda. No esperemos a que tragedias como las de Londres o Marsella se conviertan en el momento de acción, hay mucho que podemos hacer ahora. Sabemos que Si Se Puede y tenemos propuestas concretas para hacerlo.
FRANCES
Les terribles nouvelles de l'effondrement de deux bâtiments à Marseille cette semaine nous incite à continuer de lutter pour un logement décent. Notre solidarité pour les familles et les victimes de cette tragédie.
Nous nous ajoutons à la demande selon laquelle de nombreux mouvements de défense du droit à un logement digne ont immédiatement fait posible reloger les familles touchées dans des espaces sûrs et habitables.
Ce qui reste claire après ce faite regrettable, c'est le manque d'attention et de maintenance des logements sociaux qui engendre non seulement des situations d'insécurité dans toute l'Europe, mais aussi des tragédies fatales. Il y a un peu plus d'un an, un bâtiment à Londres a brûlé (tour Grenfell) où 72 personnes ont perdu la vie. Cette semaine à Marseille, 8 personnes ont été récupérées des débris sans vie. Malgré de multiples appels à l'attention du gouvernement local, les conditions d'inhabitabilité et d'abandon dans lesquelles étaient situés les logements de la rue d'Aubagne ont été ignorées encore et encore.
Le logement est un droit et ne peut jamais devenir un espace de danger imminent. Comme en France, en Espagne, il est nécessaire d'adopter politiques pour affronter la situación de urgence de logement, il faut que on approuve notre loi sur le logement PAH !!!
Notre solidarité avec Marseille, notre solidarité avec toutes les victimes de politiques de logement néfastes et injustes. N'attendez pas que des tragédies comme celles de Londres ou de Marseille deviennent le moment d'action, nous avons beaucoup à faire maintenant. Nous savons que Si Se Puede et nous avons des propositions concrètes pour le faire.
INGLES
The terrible news of the collapse of two buildings in Marseille this week motivates us to continue fighting for decent housing. Our solidarity for families and victims of this tragedy.
We join the demand that many movements for the defense of the right to decent housing have made affected families immediately rehoused in safe and habitable spaces.
What makes this unfortunate fact clear is the lack of attention and maintenance of public housing that causes not only situations of insecurity throughout Europe but also fatal tragedies. A little over a year ago a building in London burned down (Grenfell tower) where 72 people lost their lives. This week in Marseille 8 people were rescued from the debris without life. Despite multiple calls for attention to the local government, the conditions of uninhabitability and abandonment in which the dwellings on Rue d'Aubagne were located have been ignored again and again.
Housing is a right and can never become a space of imminent danger. As in France, in Spain policies are necessary to face the housing emergency in which we are immersed, we urgently need to approve our PAH housing law !!!
Our solidarity with Marseille, our solidarity with all the victims of nefarious and unjust housing policies. Do not wait for tragedies like those in London or Marseille to become the moment of action, there is much we can do now. We know that Yes We Can  and we have concrete proposals to do it.