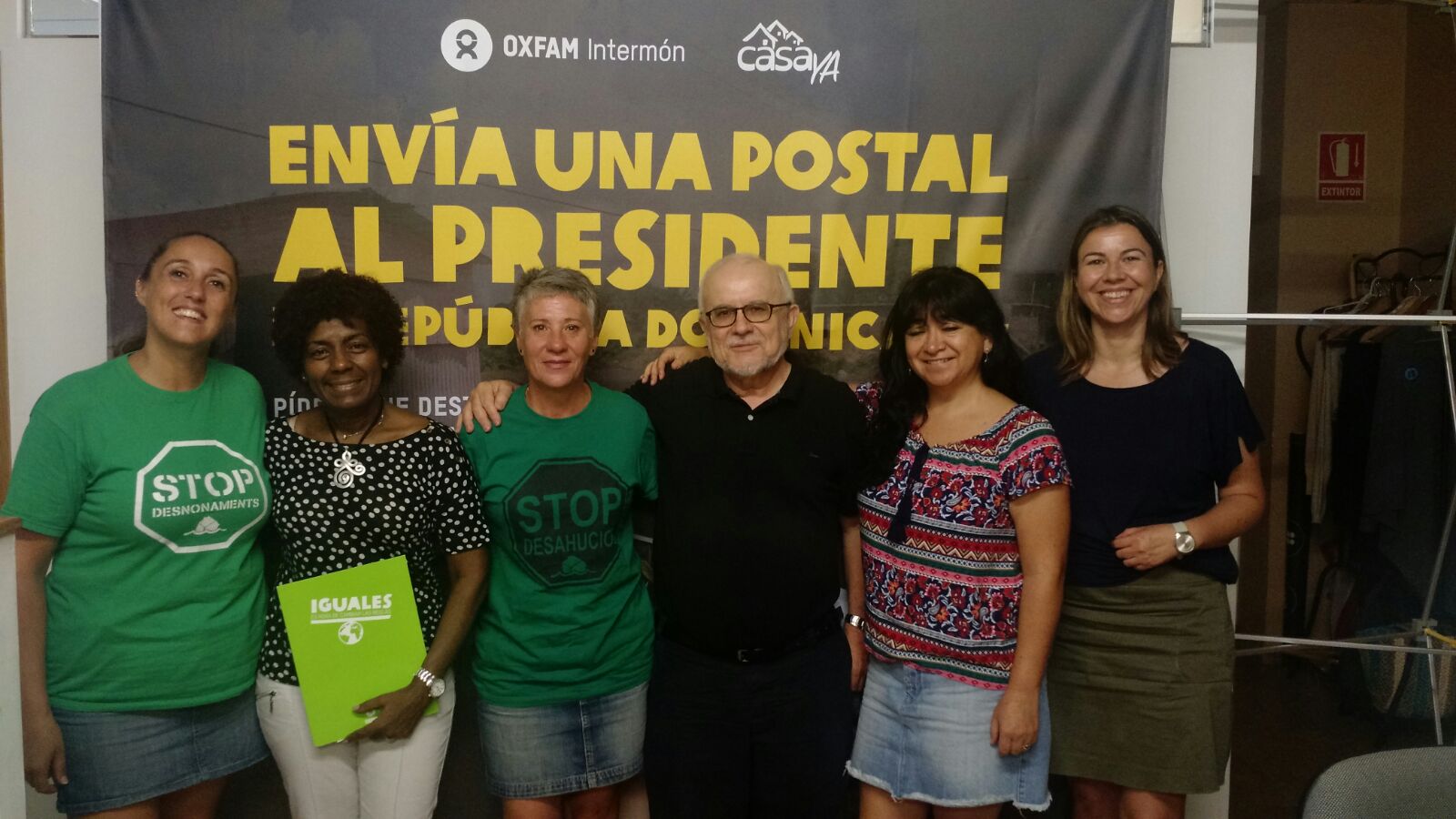 Por
Lramisa
[CAS]
Hace unos días nos reunimos con Fátima Lorenzo directora ejecutiva de Ciudades Alternativas República Dominicana invitadas por las compañeras de Oxfam Intermon en la ciudad de Valencia.
Estuvimos intercambiando experiencias en la lucha por la vivienda digna y nos contaron que Oxfam Intermón junto con colectivos y movimientos sociales de República Dominicana como CasaYa y Ciudades Alternativas han lanzado la campaña #CambiemoPrioridades que tiene como objetivo que el gobierno dominicano destine el 1% del PIB anual, que actualmente no gasta de forma eficiente ya que se destina a entidades duplicadas, gastos de representación, publicidad, etc., a reducir el problema de vivienda que sufre el 71% de la población.
Exactamente 6.738.423 personas en República Dominicana carecen de vivienda digna, es decir, que no tienen vivienda o si la tienen no reúne las condiciones básicas de habitabilidad (suministros, sanitarios, etc.) y están construidas con materiales inadecuados, aun siendo un derecho constitucional igual que en España.
A pesar de que República Dominicana ha sido la economía con mayor crecimiento en los últimos 30 años en América Latina, la inmensa mayoría de la población queda excluida de los frutos de ese desarrollo. El 45% de la población está en riesgo de exclusión social.
República Dominicana es un país conocido como un lugar paradisíaco para ir de vacaciones, esconde una realidad de desigualdad extrema que impide que millones de personas en el país no vivan dignamente.
Piden apoyo a la campaña firmando la postal dirigida al Presidente de RD, una declaración de apoyo o entrando en la web y firmando www.cambiemoslasprioridades.org
Nosotras le contamos como poco a poco nuestra campaña Romper desde abajo, donde empezamos a intentar cambiar las políticas en materia de vivienda en Ayuntamientos con mociones, en Comunidades autónomas con las Leyes Autonómicas de Vivienda y que estábamos en el punto de llegar a instancias del Congreso y presentar nuestra #LeyViviendaPAH a nivel Estatal.
Les hemos explicado las 5 demandas, el texto legal, y la campaña que llevábamos y hemos quedado en compartir todo este material para que puedan leerlas y tenerlas en cuenta.
[ING]
A few days ago we met with Fatima Lorenzo executive director of Alternative Cities Dominican Republic invited by the partners of Oxfam Intermon in the city of Valencia.
We were exchanging experiences in the struggle for decent housing and told us that Oxfam Intermón together with groups and social movements of the Dominican Republic as CasaYa and Alternative Cities have launched the campaign #CambiemoPrioridades that aims to the Dominican government allocate 1% of GDP Annual, which does not currently spend efficiently since it is intended for duplicate entities, representation expenses, advertising, etc., to reduce the housing problem suffered by 71% of the population.
Exactly 6,738,423 people in the Dominican Republic lack decent housing, that is, they do not have housing or if they do not have the basic conditions of habitability (supplies, sanitary, etc.) and are built with inadequate materials, even being a right Constitutional as in Spain.
Although the Dominican Republic has been the fastest growing economy in the last 30 years in Latin America, the vast majority of the population is excluded from the fruits of that development. 45% of the population is at risk of social exclusion.
Dominican Republic is a country known as a paradisiac place to go on vacation, hides a reality of extreme inequality that prevents millions of people in the country do not live worthily.
They ask for support for the campaign by signing the postcard addressed to the President of the DR, a statement of support or entering the web and signing www.cambiemoslasprioridades.org
We tell you how slowly our campaign Break from below, where we began to try to change the policies on housing in municipalities with motions, in autonomous Communities with the Regional Laws of Housing and that we were on the point of arriving at the request of Congress And present our #LeyViviendaPAH at State level.
We have explained the 5 demands, the legal text, and the campaign we had and we have been left to share all this material so that they can read them and take them into account.